Gasoline
Gasoline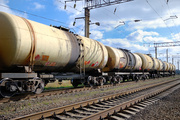 Gasolines are used in reciprocating internal combustion engines with a forced inflammation of (spark). Depending on their purpose they are divided on motor and aviation.
Despite the differences in the conditions of use motor and aviation gasolines are characterized mainly by general indicators of the quality of defining their physical and chemical properties and exploitation.
The modern motor and aviation gasoline must meet certain requirements to ensure economic and reliable operation of the engine and operating requirements: have a good evaporation, allowing a homogeneous air-fuel mixture of optimal composition at any temperatures, have a group hydrocarbon composition, providing a steady, knocking combustion at all engine speeds of the engine, do not modify their composition and properties of long-term storage and do not cause adverse effect on the fuel system parts, tanks, rubber products etc. Last years, ecological properties of the fuel put in the forefront.
A lot of gasoline in Russia is produced according to GOST 2084-77 and GOST R51105-97 and TU 38.001165-97. Depending on the octane number GOST 2084-77 has five grades of gasoline: A-72, A-76, AI-91, AI-93 and AI-95. For the first two grades numbers indicate the octane numbers defined by the motor method, for latest - according to the research.
With the increase of automobile transport in the total vehicle fleet there is a marked tendency to reduce the need for low octane gasoline and increasing of consumption of high octane.
Gasoline A-72 is practically not produced due to the lack of equipment, exploited on it. The greatest need exists in gasoline A-92, which is produced by TU 38.001165-97, although the proportion of gasoline A-76 in total production is very high.