Tar
Tar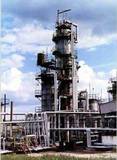 Tar is a product of oil distillation which is formed after topping from oil of fuel and oil fractions. Yield of tar from various oils is 15-30 % (on oil). Main components of tar: oils that have been not run during distillation of oil, oil pitches, solid asphalt-like substances (asphaltens, carbenes, carboids), resinous substances of acid nature (asphaltogenic acids and their anhydrides).
Tar is a primary material for the production of bitumens and is used in the industry for manufacturing of bitumen for roofing (ruberoid), road coverings (asphalt) and as a building material.
The main process of bitumens manufacturing in our country is the oxidation - the purging of tars with air. The oxidised bitumens are obtained in the apparatus of periodic and continuous operation,  and the share of bitumens obtained in apparatus of continuous operation, being more economical and simple to service, increases constantly. Among the apparatus of continuous operation the most efficient are the hollow columns with the divided reaction and separation of reacting phases sections.